rfys
After three days of intense footballing action, four teams from South Zone 1 got their tickets to the National Championship. 11 matches were played out at Hyderabad's MLR Institute of Technology which witnessed the City Champions of Hyderabad, Bengaluru and Chennai compete hard to go into the next round.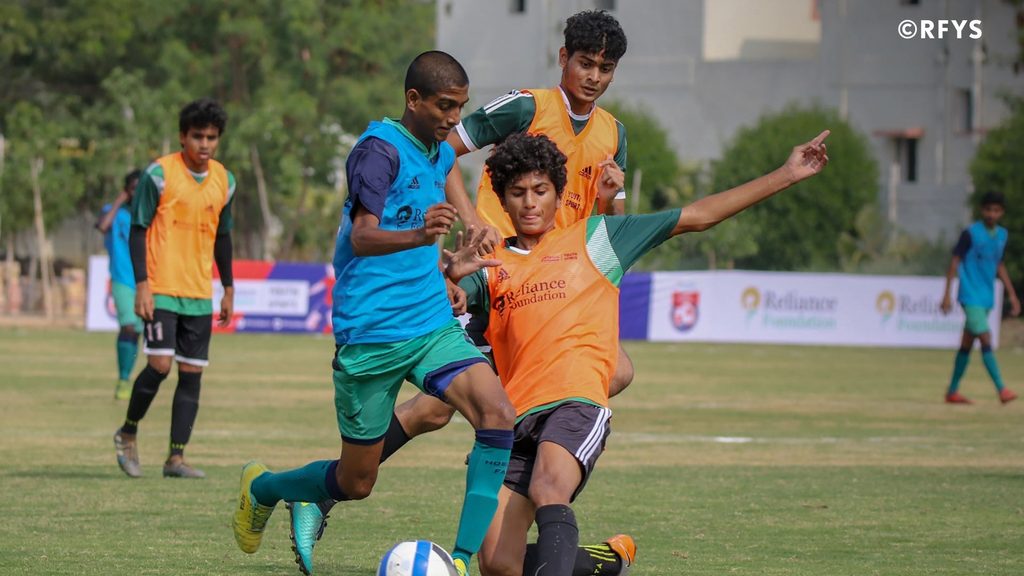 On Sunday, 2nd December 2018, institutes of Hyderabad and Chennai locked horns across four categories. It all started with the School Girls of Telangana Sports School edging past their counterparts from Chennai, NLC Girls Higher Secondary School in the penalties. Barring this game which saw Hyderabad's champs emerge victorious, Chennai's institutes showed their superiority and registered emphatic wins in the next three games. The Junior Boys encounter between Jeppiaar Matric Higher Secondary School and Glendale Academy was a no-contest as the high-flying Chennai Boys won 9-0. The Senior Boys of Glendale Academy too faced a defeat by the same margin, as JJ Government Boys Higher Secondary School stamped their authority over them. The final game of the day was between SRM Institute of Technology and Commerce and Anwarul Uloom, in which Chennai's champions won 3-1.
City Champions of Bengaluru and Chennai battled it out on the second day of the RFYS National Qualifiers – South Zone 1. NLC Girls Higher Secondary School, who lost a close encounter the day before, went on to register a 4-0 triumph over Kendriya Vidyalaya. The next game between the Junior Boys Champions went right down to the wire in which Jeppiaar Matric Higher Secondary School suffered a shock defeat against Ved Vignan Maha Vidyapeeth. JJ Government Boys continued their winning run and booked their place in the National Championship after a 5-1 victory over Greenwood High International School. SRM Institute too went on to book their National Championship berth after beating Kristu Jayanti College 3-1.
While two National Championship spots were already filled, two were still up for grabs, when the Champions of Bengaluru and Hyderabad came to the field on the last day of the National Qualifiers in Hyderabad. Telangana Sports School became the first team from the City of Nawabs to seal a National Championship spot after their enthralling 3-0 win over Kendriya Vidyalaya. The Junior Boys of Glendale Academy ended their campaign on a sour note and suffered a 9-0 loss against Ved Vignan Maha Vidyapeeth. Bengaluru's Junior Boys Champions will be the only team from their city to ply their trade in the National Championship. Last game of the day was between a dead rubber between Greenwood High International School and Glendale Academy in which the latter won 2-1.
Here are the four teams from South Zone 1 who'll be in action in the next phase.
Junior Boys – Ved Vignan Maha Vidyapeeth, Bengaluru
School Girls – Telangana Sports School, Hyderabad
Senior Boys – JJ Government Boys Higher Secondary School, Chennai
College Boys – SRM Institute of Science and Technology, Chennai