Blue Tigers welcome a new cub in the squad
rfys
15 goals in the RFYS 2018-19 tournament with two hat-tricks in the all-important Semi-Final and Final of the RFYS Shillong City Championship – these are some of the stats of Phrangki Buam, the teenager who has recently been called to play for India. The youngster won the RFYS Golden Boot and Golden Ball awards while spearheading the attack of Shillong College and helped his team immensely in reaching the National Championship in Mumbai.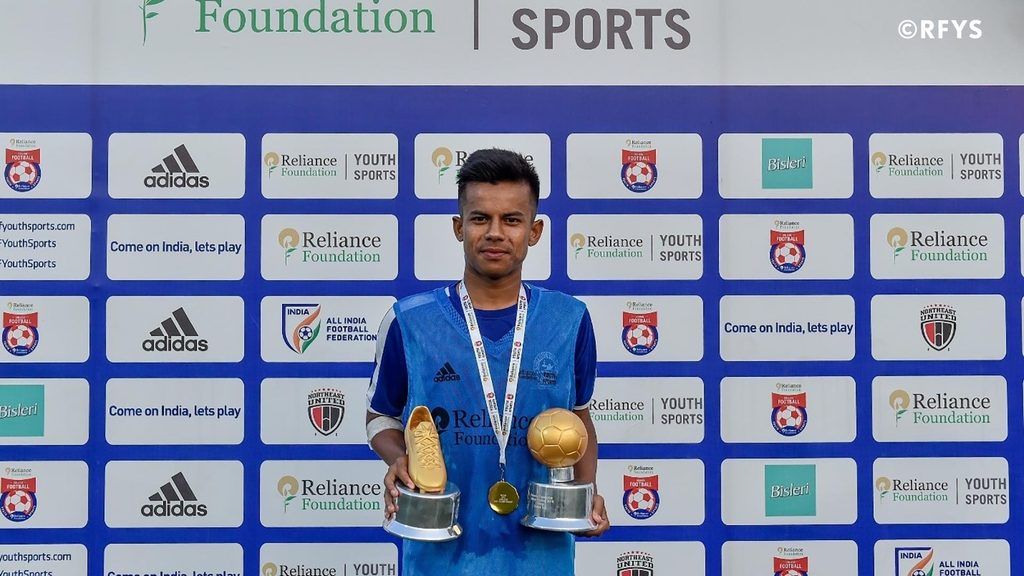 His call up to the Indian National team is a testament to the reach that Reliance Foundation Youth Sports has cultivated over the past three years. Started with the vision of promoting young talent across multiple sports in India, RFYS began in 2016 and has been successful in bringing young talent under the spotlight. With Phrangki's consistent, mind-blowing performances in RFYS City Championship and his relentless contribution to the I-League club Shillong Lajong, he has achieved his much-deserved opportunity to shine in Indian colours. The Indian team is slowly transitioning into a team which relies on youth and RFYS is a platform to find the country's best young talents. It is evident that football will only flourish if the talented youngsters are spotted and groomed well. As a result, the RFYS Football tournaments are followed by the country's best scouts and there's always a good scope for the young footballers to make their way to the top. The call up to the Indian team is a chance that the 18-year-old will relish as he will only get better with time.
In its three years, RFYS has strived to recognize and acknowledge plenty of talented youngsters like Phrangki. It can't get any bigger than representing your country for an 18-year-old and as time moves ahead, RFYS is expected to showcase more such prodigies. As Phrangki Buam makes the next big jump in his career, here's hoping that he carries his exceptional form and delivers on the biggest of platforms.