Reliance Foundation Youth Sports debuts with a new chapter for football in Kashmir "This will provide opportunities to Kashmiri footballers to play in the national team and ISL": Mehrajuddin Wadoo
Srinagar, 18 November, 2023: The Reliance Foundation Youth Sports (RFYS) will usher in an exciting new chapter with the introduction of one of India's leading grassroots football competitions in the picturesque valleys of Kashmir. RFYS will be conducting tournaments across three age categories (U-15, U-21 for boys and U-19 for girls) as it embarks into a fresh journey in a region brimming with passion and pure love for the sport of football.
With an eye on playing a pivotal role in giving wings to the dreams of budding athletes from Kashmir, RFYS has partnered with the Department of Higher Education (UT of Jammu & Kashmir) and the University of Kashmir for the Annual Inter College Boys tournament that is witnessing 29 teams squaring off in a total of 28 matches on-going from November 13-30, 2023, at the football ground of the varsity in Srinagar. In addition, the RFYS U-15 Boys and U-19 Girls competitions will see 32 and 16 sides respectively from four districts of the Union Territory (UT) competing in the tournament.
"There is a lot of footballing talent in Kashmir. For RFYS to go there is a great initiative, and it is a good opportunity for youngsters to showcase their skills. There is a lot of potential amongst players in Kashmir and hopefully they can go on to play in the Indian Super League (ISL) and the national team," Mehrajuddin Wadoo, former India international hailing from Kashmir, said in an interaction.
"When I was in Mumbai for the Next Generation Cup, it was so good to see Indian clubs competing against their foreign counterparts. If you give them an opportunity, you see youngsters like Mohammed Sanan from the Reliance Foundation Young Champs (RFYC) playing for Jamshedpur FC and he scored a goal as well in the ISL. For any age group, you need sufficient playing time and if the RFYS is giving you that then there is nothing better than it, but you have to be at your best because people are watching you closely," Wadoo added, stressing upon the exposure and window of opportunities that a tournament like RFYS will open up for emerging footballers in the valley.
"The RFYS initiative is going to be very important for all the boys and girls who will participate in the competition. It will be a great opportunity and with people watching them play, it will be a good platform to show their talents. I wish the best of luck to all the participants. There is a lot of footballing talent in Kashmir and they required the stage that the RFYS will provide them. There is a lot of following for the sport there, and I hope it grows in the coming years. All stakeholders are working in coordination for the same and I hope more players from the region emerge and represent clubs in the ISL," said Danish Farooq, who belongs to Srinagar and plays as a midfielder for Kerala Blasters FC.
RFYS aims to professionalise the footballing structure in Kashmir by providing quality playing time, coach development and grants for football development. RFYS has impacted nearly nine million students since its inception, and the Kashmir leg is an important step in the future of the program. There is a genuine interest for the sport in the valley and the tournament will be tapping upon that to create a pathway for promising players to realise their ambitions of stepping foot into and flourishing in the professional football setups in India.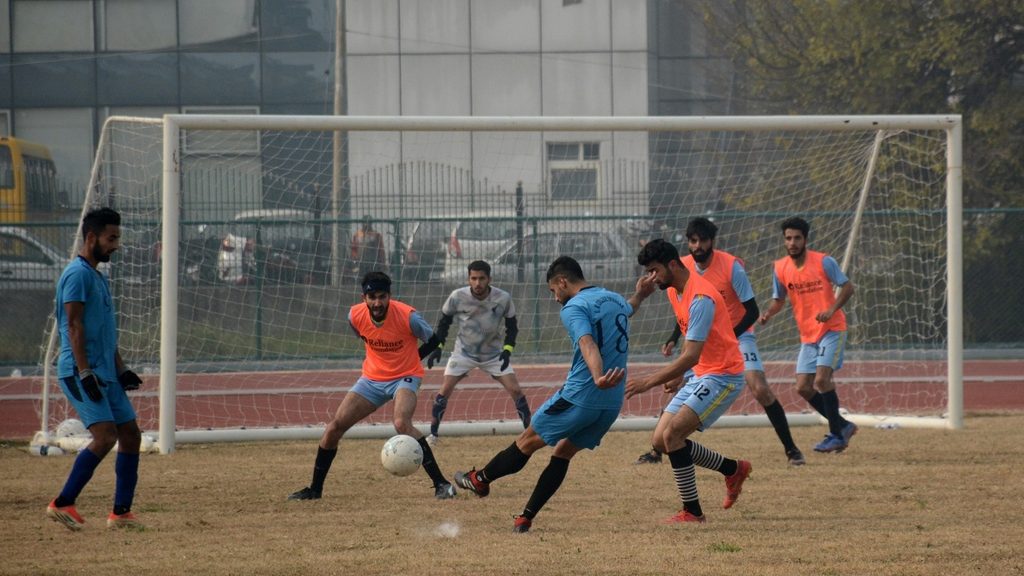 About- RFYS was launched in 2016 with the goal of transforming grassroots sports in India by creating a structured competition platform for schools and colleges. Over the years, it has allowed young athletes to showcase their talents through its various competitions taking place around the year. The likes of Melroy Assisi, Hira Mondal, Makan Winkle Chote, Gurnaj Singh Grewal, Sivasakthi Narayanan, Shilky Devi Hemam and Mariyammal Balamurugan have all participated in the tournament before going on to sign professional club contracts with ISL and I-League teams, with some representing India internationally too. The tournament has garnered support from various stakeholders, including coaches, players, education institutions, football clubs and state federations, all of whom recognize its significance in nurturing football talent in India and contributing to the growth of Indian football at all levels.
About Reliance Foundation Sports:
Reliance Foundation celebrates the spirit of sports – joy, health, grit, determination, winning and losing. And works to ensure that more and more children and youth from all sections of society are able to play sports and, in the process, build a fitter, stronger and more active India. Our initiatives have touched the lives of over 22 million young people since 2013 across the country from 14,000+ schools and colleges, enabling an opportunity for a talented kid anywhere to be able to achieve their dream of a career/glory in sports. We are especially committed to ensuring more presence and success of girl and women athletes in India and design our programmes in a manner that offers them maximum opportunities. At Reliance Foundation, we hope to be the wind beneath the wings of Indian sportspersons and help them reach their true potential. For more information please follow us on https://www.rfyouthsports.com/
Follow Reliance Foundation on: Instagram | Facebook | Twitter | YouTube