Sudeva Delhi FC beat Reliance Foundation Young Champs to set final date with Bengaluru FC in the RFDL National Championship
Reliance Foundation Development League
Mumbai, 11 May, 2023: Sudeva Delhi FC stormed into the finals of the Reliance Foundation Developmental League (RFDL) courtesy a 1-0 victory against the Reliance Foundation Young Champs (RFYC) tonight in Navi Mumbai. They will now lock horns with Bengaluru FC (BFC) at the Reliance Corporate Park (RCP) on May 14 in the grand finale of the second season of the RFDL.

The team from the national capital netted in the 67th minute as defender Chungkham Jackson pulled off a delicate chipped pass that forward Seilenthang Lotjem brought down with perfection and then put it past RFYC goalkeeper Ranit Sarkar to help the visiting side get a foot ahead in the proceedings.

Sudeva followed it up by tightening their backline and thwarting the waves of attacks that RFYC inflicted on them later on. The victory is significant as RFYC had cruised into the semi-finals unbeaten in both the regional qualifiers as well as in their National Group Stage matches.

However, Sudeva looked undeterred by the quality of the opposition up against them as they gave it their all and repeatedly looked to breach the RFYC backline in multiple ways. They tried to carve out some openings through the flanks but eventually found success in adopting a bit of a direct approach that caught the RFYC defence off-guard.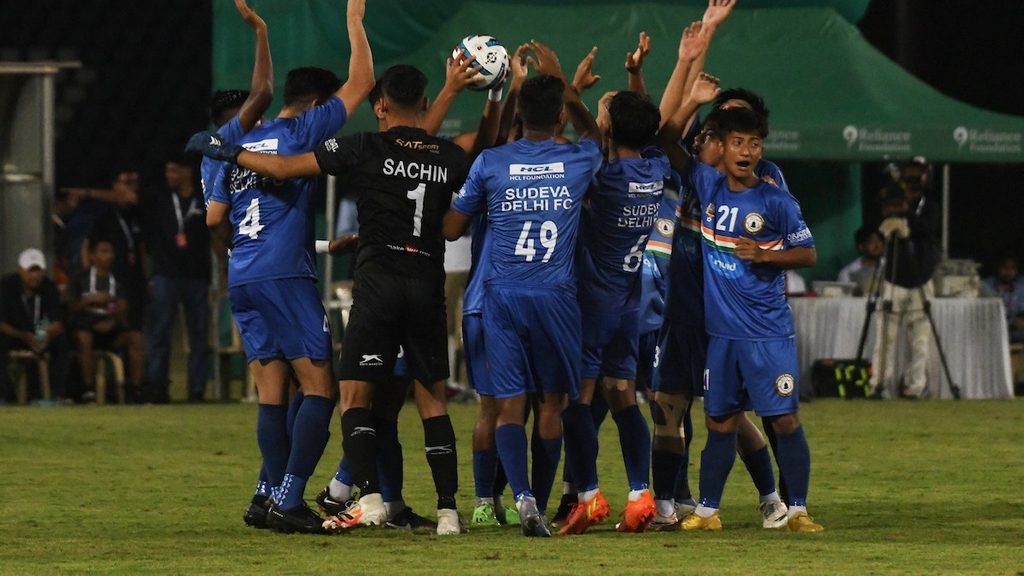 Sudeva did not come across many goal-scoring opportunities as such but Seilengthang's composed finish ensured that they capitalised upon the occasional breakthrough that they managed to open up. They were smart in managing the game thereafter, often taking their time to build up from the back and ensuring that RFYC didn't catch hold of the possession for a long enough period of time.

RFYC, though, will be aiming to finish their campaign on a high as they take on ATK Mohun Bagan in the third-place playoff match on Saturday.

"This defeat itself is the biggest takeaway for the boys, so, looking forward for more from them. Of course, we have another game just coming up. We have the chance of becoming a top three team in our country. The Next Generation Cup is also coming up. So, our preparations start from tomorrow. Our heads are always up," RFYC coach and former India international Arata Izumi reflected on the result in the aftermath of the game.

"I want to win. But, let's see, more than that the most important thing is to enjoy and learn in every game," Sudeva coach Chencho Dorji said about the team's upcoming final clash against Bengaluru FC. "We came up very strongly. We got a goal and I was pretty sure that every team is normal I think," he added as he addressed RFYC and the challenge that they presented in front of Sudeva.

Brief Scores

Sudeva FC 1 (Seilenthang Lotjem 67') – 0 Reliance Foundation Young Champs

Schedule, May 14, 2023 – Sunday

3rd place playoff – ATK Mohun Bagan vs RFYC - RCP, Mumbai

Final – Bengaluru FC vs Sudeva FC – RCP, Mumbai
For all the latest updates of RFDL Season 2, please visit us here: https://www.rfyouthsports.com/football/rfdl/home
Don't forget to follow Reliance Foundation on: Instagram | Facebook | Twitter | YouTube