RFYS Athletics National Championship off to a flying start
rfys
After two months of enthralling track and field action across 14 centres, RFYS Athletics National Championship kicked-off in Mumbai. The opening day was full of enthralling performances and majestic triumphs as the young athletes competed hard for the top honours. Sports Authority of India, Kandivali, Mumbai was the venue where the three-day meet was about to go down.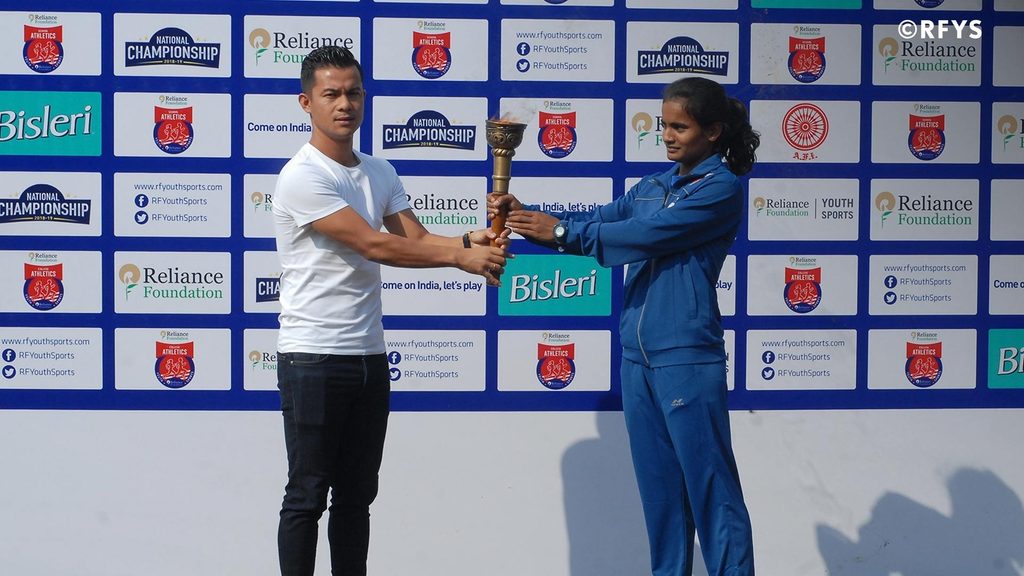 The traditional lighting of torch commemorated the beginning of the athletic meet after which the 5000m final in Senior Boys category and Triple Jump final in College Girls category took place. These events were followed by events like the Shot Put, 400m, 4*400m as well as quickfire events - 200m and 100m races. The 200m race in the Junior Boys and Junior Girls final saw a dynamic duo from Lucknow claim the top honours. Ravindra Paswan, representing Bhartiya Inter College clocked 22.57s whereas Sweety Verma from Uttam Inter College clocked 25.54s to get the Gold. The relay squads of Government Sports High School and Telangana State Sports School were prolific as they won 2 medals apiece in 4X100m relays in the Junior categories. Special mention to College Girls of Charuchandra College who were the clear winners with a timing of 4:06.64s in 4X400m race.
Athletes who sharpened their skills at the Athletics Elite Camp, 2018, Bengaluru, were also in action on the first day of Nationals. Amlan Borgohain of Avinash College of Commerce, Hyderabad, waited for a good ten months to prove his mettle again in a RFYS National Championship. Clocking 10.88s in the 100m College Boys final, he bettered his 2017-18 record of 11.03s by a considerable margin and added the gold medal on his wall of honours. Tushar Chhibber, hailing from Delhi's Ramanujan College, was elated after his jump of 14.77m sealed the deal and bagged him a Silver Medal in the College Boys Triple Jump final. Throughout the course of 2 months, a lot of AEC athletes rose to prominence and shone, and now they seem to end their dream run with some impressive performances at the National level as well.

A total of 28 finals were played throughout the opening day which saw records being threatened and a few unexpected winners, as well as a few unforeseen upsets. Among the guests present to add charm to the event was Mumbai City FC player Sanju Pradhan. The first day set up a great hype for the upcoming two days of the meet as athletes will be pumped up for the respective events and ready to leave their mark on RFYS history. As the 2-month long journey slowly comes to an end, expect a lot of the happenings of day 1 to be repeated and only be bettered over the course of the next two days.