MEET 'MD' ALAMGIR HOSSAIN FROM RELIANCE FOUNDATION ODISHA ATHLETICS HPC – READY TO SCORCH THE SINGLE LAP CHALLENGE
togglehead
At the Reliance Foundation Odisha Athletics High-Performance Centre (HPC) in Bhubaneswar, Mohammed Alamgir Hossain has been identified as an athlete of immense promise. MD, as he is fondly called by fellow athletes and the coaching staff, was awarded the Best male performance of the competition at the Sprint and Middle Distance Fest at the HPC in October-November last year, underlining his potential. While he recorded Personal Best (PB) timings in both the 100 & 200m at the competition, it is in his preferred 400m sprint that Alamgir is carving a niche for himself. Head Coach James Hillier, who offered him a spot after an intense month long trial, was immediately impressed with Alamgir's "ferocious appetite" to race and compete.
"My initial impressions were that he was physically very raw, but had good natural ability," says Hillier. "He clearly had something that was worth investing in and working to develop. What I really liked about him was how naturally competitive he was. What he lacked in technical finesse he made up for in abundance with a ferocious appetite to be competitive - something that all top athletes must have."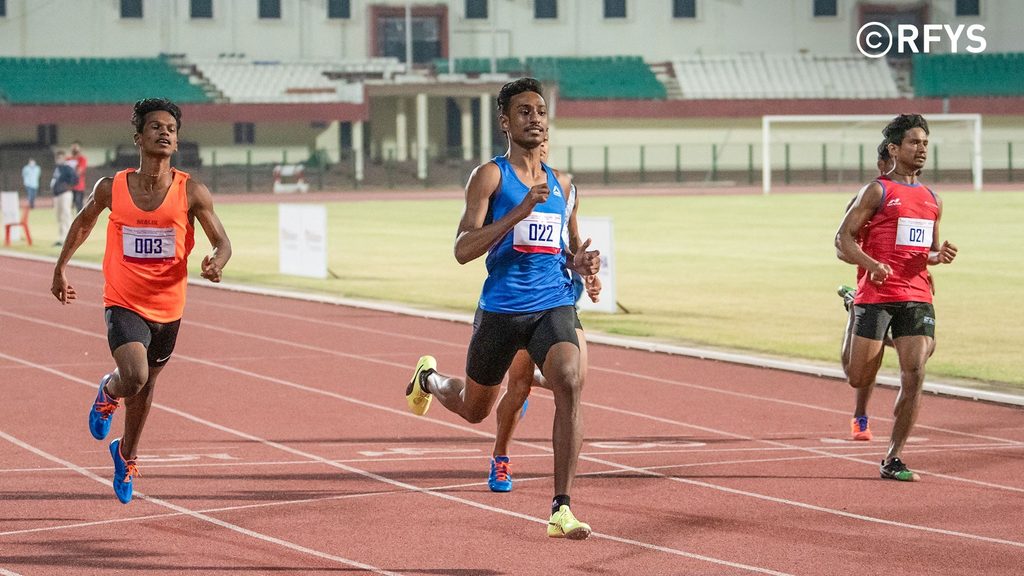 Born in 1999 in the North 24 Parganas district in West Bengal, Alamgir was initially drawn to football and played for his school team. An observant Physical Education teacher in his high school in Kolkata noticed his remarkable natural speed and sent young Alamgir to a local athletics coach, who was once a national level sprinter. The first few months were a struggle, and Alamgir recalls training on a grass track of 230m, completely unsuited for the demands of 400m sprinting. He would get injured often but soldiered on, and in 2017, at the age of 18 tasted success on the track for the first time when he won silver medals in both the 200m and 400m at the district level athletics meet. Alamgir was pleased with that outcome, but his parents weren't happy that he had finished second.
"My parents told me to stop football training and concentrate on running," he remembers. "Since then I started training five days a week after taking special permission from my football academy. I also attribute the credit of my initial success to my first coach Mr. Rahul Kumar, who took the right decisions for me and also helped me financially to get quality competition and training kit. He also took care of all my expenses during competition travel."
Having tasted success at the district and then state level, Alamgir was ready to take the next step in his journey. In 2018, he won the bronze medal in the 400m at the Junior National championships in Ranchi in the U-20 category. At the Reliance Foundation Youth Sports (RFYS) national finals in Mumbai in 2019, representing Latbagan High school from Barrackpore, he claimed silver in the 200m. In fact, Alamgir had impressed observers enough at the RFYS championships a year earlier to earn a call-up to the elite camp, meant for the most eye catching talent on show at the championships. The experience was an eye opener, with Alamgir experiencing for the first time how professional athletics is conducted. Not long after, he had a permanent spot at the Reliance Foundation Odisha Athletics HPC, where world class facilities, infrastructure and coaching expertise were at his disposal.
"We get a professional feeling when we participate in RFYS championships," he says. "The elite camp is where I started learning real techniques and science behind running, and that changed my perception about athletics altogether. I consider myself fortunate to be here at the HPC and I'm learning the right techniques under James sir. I got a severe ankle injury in the beginning of my tenure here, my coach and the entire support staff helped me to recover faster from it and today I'm running near my personal best timing again. I'm sure that it wouldn't have been possible if I wasn't here."
The focus for Hillier and his team at the HPC now is to carefully nurture Alamgir so he can start to produce elite level performances in a couple of years. The early signs have been encouraging and Hillier advocates a patient approach to ensure he can achieve full potential.
"He has improved well enough to suggest that big personal best improvements are not too far away," says Hillier. "We have spent a great deal of time working on making him a better all-round athletic individual. For example, we have worked on basic movement patterns on the track through complex athletic drills. In the gym we have focussed on building general strength in the core and explosive strength through Olympic and power lifting. With regards to running we have worked on his reactive strength in order to make him faster and more efficient."
"Mentally he needs to be challenged to get the best out of himself," he adds. "The more pressure he is under the better he performs. So, for us we try and make training as competitive as possible to align to these personality traits."
With a PB timing of 48.44 seconds in the 400m currently, the objective is to have Alamgir bring it down to 46 seconds in the next two years and push for spot in the 4 x 400m relay squad in the Indian national team. One day, he dreams of winning an Olympic medal but Alamgir knows the path to that glory is arduous and painstaking. His father Majlum Hossain, a government employee, and mother Alif Laila, a homemaker, are filled with pride as they see their only child progress rapidly from the time he first embraced athletics.
"Since his first medal in athletics we whole heartedly supported Alamgir, now we are delighted to know the facilities and care he gets at the HPC," says Majlum. "We are eagerly waiting for his first international medal."